Reading is My Secret Power: Celebrating Book Week!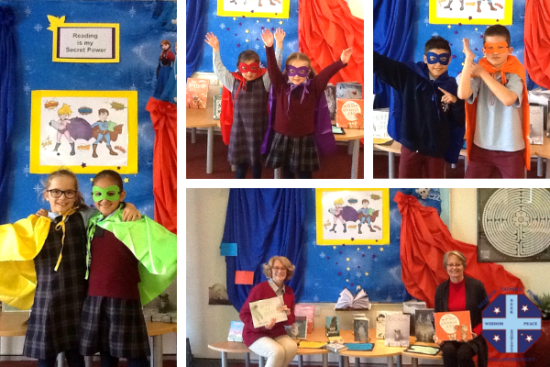 Caped crusaders, crazy costumes and colourful characters – it's been a jam-packed week of fun and creativity at Nazareth this Book Week. With inspiration from this year's theme, 'Reading Is My Secret Power', we've enjoyed celebrating reading as a school community.
Each year, the Children's Book Council of Australia (CBCA)'s 'Children's Book Week' sees schools, libraries, booksellers, authors, illustrators and children around the nation celebrate Australian children's literature.
There's lively book character parades and performances, and a variety of book competitions and themed activities. Our librarians and teachers have created amazing Book Week displays and our talented students and their families have designed incredible costumes for the week's festivities!
This year, children in many of our schools are being encouraged to come dressed as their favourite literary characters, a character from one of the CBCA Book of the Year short-listed books, or something to do with this year's theme: 'Reading is my secret power'.
We asked some of our students what they are planning on dressing up as this Book Week and why:
"I'm coming as a unicorn. I wrote my own story about a unicorn with secret powers" – Celeste, 3H




"I'm coming as a banana from 'Piranhas don't eat bananas'. His secret power is that he keeps his eyes peeled!" – Noah, 6R
Our teachers didn't miss out on any of the merriment either, with staff coming dressed as superheroes!
We were fortunate to have a fantastic Book Week display – an incredible themed poster drawn by our very talented parents, for all our students to enjoy. Our colouring-in competition was also a favourite among our infants classes.
Meanwhile, our teachers encouraged students to explore their library's selection of books and get reading – awarding the highest borrower in each class the chance to wear special superhero capes on library days [pictured above]. A fun and fantastic week was had by all!
---